An estimate for pricing on wedding and formal dresses are given at first appointment. All other prices are listed below.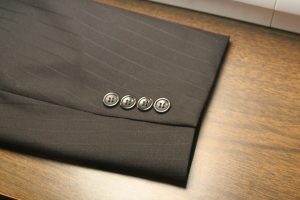 Men's Clothing:
SUIT COATS:
Torso taper $35
Sleeve lengthen/shorten $85
Mock buttonholes $35
Coat hem-shorten $40
Other *Ask for Estimate
DRESS PANTS:
Waist (take in / let out) $20
Hem $16
Hem + cuff $20
Taper legs + Redo Old Hem $38
Taper legs + New Hem $44
Stride Adjustment Only $18
OTHER ITEMS:
(prices available upon request)
Coats – zippers, buttons, snaps

Military Uniforms
All branches

Hem Pants – Military Angled $20
Waist Adjustment $20
Jacket Taper $35
Rank, Patches, Stripes Based on Hourly Rate
Other *Ask for Estimate
Dresses
& Bridal Gowns:
All estimates provided at first fitting. Charges based on straight time needed to properly complete the work.
Alterations available:
Hemming
Sides taken in or let out
Shoulders taken in
Sleeves added
Sleeves changed
Neckline adjusted/raised
Corset panel added (to replace zipper)
Gussets
Zippers adjusted or replaced
Bustles – 1, 2, 3-point or more
MODESTY MAKEOVERS:
This is a method of filling in the top of a strapless or a spaghetti-strap dress.
Prices for wedding gowns begin at $350.00.
Formal and prom dresses adding sleeves. Prices start at $100